The most likely starting points for summer visits to Alaska are Anchorage,Seward, Juneau or Fairbanks. Major air carriers fly in to Anchorage, Juneau and Fairbanks. Cruise ships make stops in Juneau and in Seward.
Many places in Alaska are accessible only by air or water. The state capital, Juneau, is one of those. There's been talk in the past of running a highway into British Columbia to connect Juneau to the North American road system but, in the meantime, the choices come down to airline, cruise ship or the Alaska State Ferry. As of 2007, Alaska had just under 15,000 miles of roads.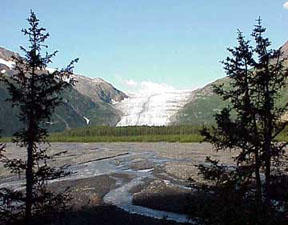 Anchorage and Fairbanks can be reached by road, but it's a long drive from the Lower 48 states or from the urban centers of Canada. The smaller communities of Seward, Homer, Talkeetna, Valdez, Skagway and Haines are on the road system, as is the entrance to Denali National Park.
Visitors arriving in Anchorage or Fairbanks will find it most convenient to rent a car or motorhome for their Alaskan vacation. Road conditions, in general, are good. The highway between Anchorage and Seward has been improved in recent years, with a number of three-lane passing areas, and it is one of the most spectacular drives in North America. The 126-mile trip can be easily made in three hours, though frequent stops to admire the views may make it take longer. The first 40 miles of the trip between Anchorage and Denali National Park is on a four-lane highway, with the remainder on a good, two-lane highway.
The Aleutian Islands, western, northern and much of Southeast Alaska are off the road system. Homer, in Southcentral Alaska, is as far west as it is possible to travel on the North American road system. Among the places that can not be reached by road are the Gold Rush mining town of Nome, which is better known today as the terminus of the "Last Great Race," the Iditarod; Barrow on the North Slope; and the Southeast Alaskan communities of Ketchikan and Sitka.
Photo above left is of Exit Glacier near Seward. Trails allow visitors to approach the glacier's face.