Summer in Alaska
Visitors' first close-up view of Alaska in the summer often looks something like this -- a glimpse through the porthole as their plane makes its final approach to Anchorage International Airport. Downtown Anchorage is straight ahead, with Cook Inlet in the background, in this view. Much of the wooded area in the foreground is part of Fort Elmendorf Air Force Base.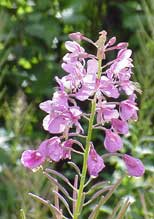 Anchorage is a city of about 280,000, in a state that has more caribou than people. (Alaska's total population is about 710,000, according to the 2010 U.S. Census. There are 32 caribou herds in Alaska, and their total population is about 900,000, according to the Alaska Department of Fish and Game.) About half of the people in the state live within a 50-mile radius of Anchorage. Alaska is twice the size of Texas, one-fifth the size of the lower 48 states. The implication of this is that most of Alaska is very empty. Tourism and oil are among Alaska's biggest industries. Several of the tallest buildings in this photo are hotels; the others are the Alaska headquarters buildings for oil companies.
Alaskan summers are great, because the weather is mild, the days are long and even at night the sun is never far below the horizon. (Alaska is not the place to go to see fireworks on the Fourth of July, because in most of the state it just doesn't get dark enough -- even after midnight -- to show them to best advantage.) The further north you go, the more daylight you get. In Anchorage, it's possible to read a book outside at midnight in late June. In Barrow, on Alaska's North Slope, it doesn't get dark at all for several months.
Summer's calendar is the fireweed. Its blossoming announces summer's arrival. When its last blossoms fade and its stem turns cottony, summer is over. The plant at right was photographed in mid-August.
Alaska is a big state so the range of weather in any season is wide. It can be wet in Southeast Alaska, where the state capital, Juneau, is located. Southeast Alaska even has a rainforest: The Tongass National Forest. Coastal areas -- and Alaska has a lot of coast, as much as the other 49 states combined -- get more rain in the summer than do places further inland. The warmest summer weather is found in inland Alaska, including the area around Fairbanks, Alaska's second largest city. Because Anchorage is surrounded by mountains -- this photo was taken from the slope of one -- it is rarely windy there. Although summer temperatures are usually in the 60s and 70s (Fahrenheit) it usually feels warmer because of the lack of wind.