Seward, Alaska
Seward is a popular stop for visitors to Southcentral Alaska. It is the final port for many of the cruise ships to Alaska and it is an easy and picturesque mountain drive from Anchorage. It is dramatically located at the foot of Mount Marathon and at the head of Resurrection Bay.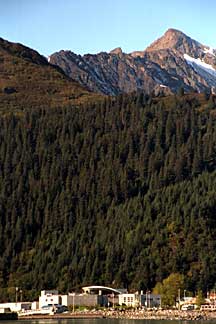 Some of the big events during the year in Seward include the Mount Marathon Run on the Fourth of July and the Polar Bear Jump Off in January. The Mount Marathon Race is pretty much what it sounds like: Runners race up the 3,022-foot mountain behind Seward and back down again; the fastest racers can make the roundtrip in less than an hour.
While the Mount Marathon Race comes during the height of the tourist season; the Polar Bear Jump Off comes when Seward is battened down for the winter. It attracts Alaskans -- and only hardy ones at that. The highlight of the activities on the third Saturday in January is when folks dress up in outrageous costumes and plunge into the waters of the small boat harbor, which at that time of year are just above freezing. They jump out again pretty quickly. Proceeds of the event go to the American Cancer Society.
Seward's Silver Salmon Derby, a 9-day event that starts the second Saturday in August, offers more than $200,000 in prizes. Advance reservations are strongly recommended for visitors to Seward during that time. There's also a Jackpot Halibut Tournament from May 15 to August 1.
The SeaLife Center, the large building visible in the photo above right, is one of Seward's newest attractions. It was opened in 1998 as a combination marine science and visitor facility. Visitors can view researchers at work as well as seabirds and marine life in naturalistic settings.
Nearby attractions include Kenai Fjords National Park -- to see it, catch a tour boat in the small boat harbor -- and Exit Glacier, which can be reached via a road that branches off the highway just north of town.
Seward has camping areas along the shore of Resurrection Bay for RVs and the Harbormaster building at the small boat harbor has public facilities that include pay showers.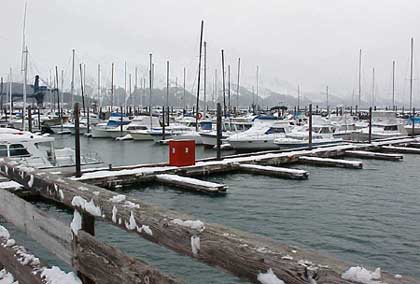 Seward's small boat harbor in the winter.
Other interesting Seward facts and information: