Kachemak Bay, Homer and Seldovia
A visitor's first glimpse of Homer from the the highway approach to the town is likely to be the most dramatic. Homer's most unusual feature is the five-mile-long spit that juts out into Kachemak Bay. The spit is most easily seen as a whole from high on the bluffs overlooking the town, and that's the view provided motorists as they come around the last hillside curve before the highway descends into town.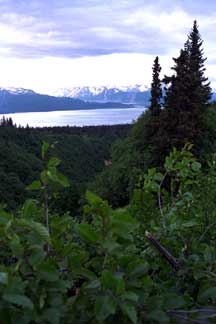 Homer and Halibut Cove across the bay are artist colonies as well as tourist attractions. Homer greets migrating shorebirds – and birdwatchers – with a festival in early May, and a summer-long halibut derby keeps charter operators busy from May 1 through Labor Day. Visitors wanting to see big fish should head for the fish weigh station on the spit in late afternoon. There they may see fish on display that are as big as the people who caught them.
Beachcombers on the spit's rocky shore may be collecting coal instead of shells. Chunks of coal broken off an underwater seam regularly wash up on the beach. In the spring, before the end of the school year, groups of grade schoolers may be seen exploring the tidal pools, identifying a variety of creatures including starfish.
Homer's attractions include the Pratt Museum, with exhibits of ancient Native artifacts and aquariums and other displays of the area's bird and marine life.
The character of the spit changes in the winter, when eagles throng to it. They can be found, as thick as sparrows, roosting on rooftops, on coal piles, on every suitable surface -- attracted by the promise of lots of fish, delivered by a woman who for several years has ensured that they remain well fed.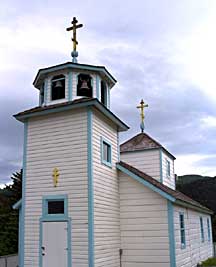 About 4,000 people live in Homer; fewer than 100 live in Halibut Cove, a hideaway seven miles across the bay. Halibut Cove has cabins, bed and breakfasts and a lodge for overnight visitors. Day visitors can wander along a mile-long boardwalk, visit art galleries and eat at the cove's one restaurant.
Homer is the westernmost point of North America's road system. To get to Seldovia, about 16 miles southwest of Homer, it's necessary to charter a boat or small plane or take a ferry. Seldovia is a small town, with a population of less than 300. Its attractions in addition to the setting, include its big Fourth of July celebration, a boardwalk that dates from the 1930s and the St. Nicholas Russian Orthodox Church (at right), built in 1891, and now a national historic site.
Homer is a five-hour drive or 20-minute plane trip from Anchorage. Some cruise ships and the Alaska state ferry also stop there. Halibut Cove can be reached by boat or floatplane.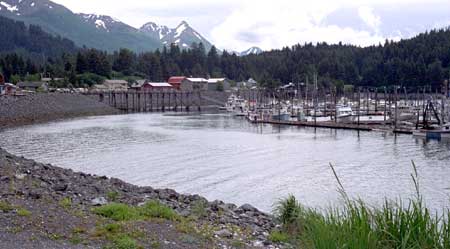 Seldovia's harbor.