Anchorage: Gateway to Alaska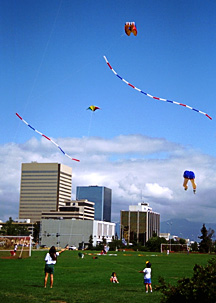 Alaska's largest city has a complex personality. With a population of about 280,000, it has all the amenities -- shopping malls, two universities, half a dozen TV stations, major chain stores -- of a city of similar size in the Lower 48. But it also sits on the edge of the wilderness. A salmon fishing derby is held each summer at Ship Creek, just down the hill from downtown Anchorage. Moose are a traffic hazard. Grizzly bears occasionally get into the garbage of residents in the city's Hillside suburb.
Anchorage offers visitors and residents lots to do:
More than 20 miles of trails along Cook Inlet and along Chester Creek attract strollers, bicyclists and inline skaters in the summer and cross-country skiers in the winter.
The Anchorage Museum at Rasmuson Center has dioramas and other historical displays, including Native cultures, World War II (Japanese and Americans fought in the Aleutians), oil exploration and the Good Friday Earthquake of 1964. It also has a large collection of Alaska art.
The Oscar Anderson House wouldn't get a second glance in many American cities but it stands out in Anchorage. It was built in 1915, making it one of the first houses constructed in the city (Anchorage was settled after Congress in 1914 authorized a railroad from a port into the interior of Alaska). The house is on the National Register of Historic Places.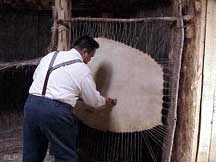 The Delaney Park Strip, just south of downtown Anchorage, was once an air strip. Now it includes ball fields, tennis courts, a garden, an old train engine for kids to climb over, and fields that lend themselves to such activities as soccer and kite flying (as in the photo above right). During the summer season ball games can be watched late into the evening.
The Alaska Native Heritage Center, in a wooded setting on the edge of Anchorage, is well worth visiting. It includes a Welcome House where visitors can see Native dancers and storytellers and watch artisans at work. Beyond the Welcome House is a trail around a pond that takes visitors to the traditional buildings of several Native cultures where they may encounter scenes such as the sealskin cleaning scene in the photo above.
The Alaska Zoo specializes in arctic wildlife, including grizzly bears, a glacier bear (its fur has a blueish cast), caribou, wolves, moose and musk ox.
Ship Creek near downtown Anchorage is the scene of a salmon derby and also has a viewing platform from which salmon can be seen as they try to jump a dam spillway.
Chugach State Park in the mountains bordering Anchorage has trails for hikers and mountain bikers. The climb up Flattop, a mountain with a curiously level summit, is a popular one. Some climbers camp out on Flattop the night of the summer solstice.
Downhill skiers have a choice of Hilltop, which includes a ski jump, in South Anchorage; Alpenglow, on the northern outskirts; or Girdwood, a 45-minute drive along Turnagain Arm. Girdwood, where Olympic skiers have trained, has the most challenging ski runs.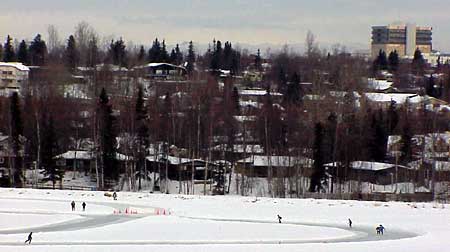 Skaters race on a Westchester Lagoon track. The lagoon, just south of downtown Anchorage, is transformed into a skating rink in the winter.