Autumn in Alaska
Fall means the first thin skin of ice on lakes. It's time then to take the floats off the plane and replace them with skis. This plane, at Lake Hood near Anchorage International Airport, still had its floats in early October but others nearby had already been hauled out of the water.
The Lake Hood floatplane base is one of the busiest airports in Alaska during the summer as air taxi services take tourists flightseeing over nearby glaciers or near Mount McKinley or transport them to remote fishing spots or lodges.
Autumn arrives in Southcentral Alaska, the area that includes Anchorage, Valdez, Seward, Homer and Kodiak Island, about the time school starts and lasts till the first or second week of October, which is usually when the first snow falls. Halloween, in much of Alaska, comes in early winter, creating costume challenges for trick-or-treaters who must bundle up in their winter coats.
Alaska's fall colors are muted because much of the state is north of the range for such trees as maples and oaks, but nonetheless a drive in late September can provide views of spectacular scenery.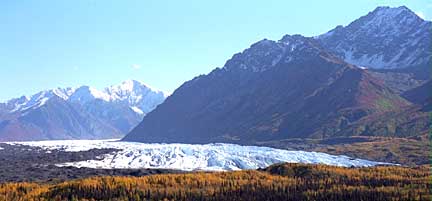 An autumn view of Matanuska Glacier, off the Glenn Highway east of Anchorage.