Denali National Park and Preserve
At 20,320 feet, Mount McKinley is Denali National Park's biggest attraction. But many visitors to the park leave without having ever seen it. That's because it's often surrounded by clouds. On a clear day, however, it can be seen from a very long way away. It may be visible from Anchorage, 160 miles away (a good observation point there is one of the parking areas in Earthquake Park near the airport).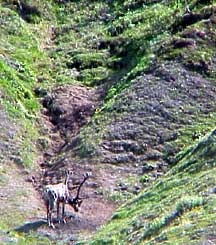 Fortunately, Denali National Park and Preserve has much more than Mount McKinley to offer visitors. Wildlife and dramatic scenery are its most dependable attractions. If you need to take a break from the stresses of figuring out the pros and cons of annuities and want to get away from it all, this is the place to do it. Visitors taking the shuttle bus ride from the park entrance to Wonder Lake will see a lot of both. They can count on seeing caribou, with a good likelihood of seeing grizzly bears -- almost certainly in the distance, but perhaps from very close range -- , moose and dall sheep. There's plenty of other wildlife, too, including eagles and wolves.
There is only one road in, and it goes only about 90 miles into a park that is almost the size of the state of Massachusetts. Moreover, all but the first few miles of the road are closed to cars. To go further, it's necessary to take a Park Service shuttle bus or sign up for a tour. The bus ride is a leisurely one, with frequent stops to view the scenery, pick up or let off hikers, and to observe wildlife. A trip to Wonder Lake and back takes about 11 hours so it's necessary to take a bus leaving in the morning for that. Visitors wishing to spend only a few hours on a bus can catch buses making shorter round trips later in the day. Bus reservations should be made at least a day or two in advance.
The park has campgrounds at Riley Creek, just inside the entrance; Savage River; Teklanika; and at Wonder Lake near the end of the park road. Backcountry campers can pick up free permits at the visitor center. Privately operated campgrounds can be found outside the park.
A vacation village has grown up on the Parks Highway around the Denali National Park entrance. Hotels, motels and cabins as well as restaurants and gift shops can be found there. Advance reservations for lodging are recommended. Several companies located near the park entrance offer rafting trips on the Nenana River.