Kenai Fjords National Park
Although Kenai Fjords National Park encompasses a vast area of glaciated mountains on the Kenai Peninsula, most visitors see it from the deck or enclosed cabin of one of the tour boats based in the Seward small boat harbor.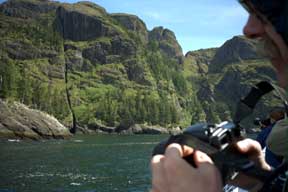 Only one of its glaciers, Exit Glacier, is easily approached by land. A road intersecting the Seward highway just north of Seward leads about 10 miles back to a parking lot half a mile from the glacier. Trails allow visitors to get close to the glacier face. More ambitious hikers can reach the 300-square-mile Harding Icefield in an all-day hike from the base of Exit Glacier.
Backcountry hikers have the easiest time exploring the park by land, since the only other road touching on the park is the highway between Seward and Anchorage. It is also possible to rent a backcountry cabin in the park. A small plane can drop you and your supplies off for a week in the wilderness and then pick you up afterwards. Taking a backcountry trip is the adventure of a lifetime but be sure to be well prepared. As fresh water filters down from the glacial fields into streams and rivers, the surrounding area is teeming with wildlife and you will find yourself significantly outnumbered by bears, moose and countless other animals.
Several companies offer day cruises of the park's fjords.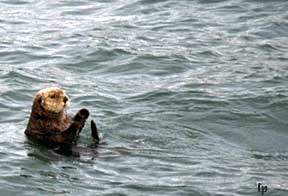 Cruises range in length from about 3 hours to 8 or 9. The shorter cruises are good for wildlife viewing, including bird rookeries, sea lion haulouts, eagle nests, sea otters (look, there's one at right) and, perhaps, whales. The longer cruises include these as well as opportunities to watch glaciers calve icebergs into the ocean. While waiting for your cruise to begin, check out the small boat harbor. You may see a harbor seal or even a sea otter there.
Seward, the base for visitors to Kenai Fjords National Park, has hotels, motels and bed and breakfasts as well as a campground on the city's rocky shore. Although beaches along the coast east and west of Resurrection Bay were once covered in oil from the Exxon Valdez oil spill, clean water filters through the area once again and thanks to extensive coastline and water purification efforts, there is little evidence of the massive ecological disaster that occurred.
That is not to say that there are no lingering effects of the spill. It is just that they have become less visible. An Anchorage environmental consultant wrote in the Anchorage Daily News in September 2013, "Government studies confirm that most of the populations and habitats injured by the spill have not fully recovered and . . . the remaining oil will take decades and possibly centuries to disappear entirely."
The Alaska SeaLife Center, which opened in the late 1990s, allows visitors to see the area's marine life in naturalistic settings and also to observe scientists doing marine research.