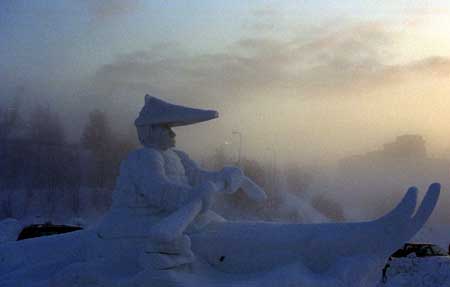 Fur Rondy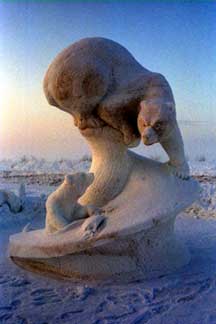 Fur Rendezvous is a winter celebration of Alaska's fur trapping and trading heritage that is held in Anchorage each February.
The Fur Rendezvous dates from the 1930s; the Alaskan fur trade dates back to the days when Alaska was a Russian territory. Charles Dana, in his book Two Years Before the Mast, tells of encountering a Russian fur trading vessel that had come down from Kodiak, Alaska, to California in the 1830s. Fur trapping continues in Alaska; animals that are infrequently seen in the Lower 48 remain plentiful in Alaska today.
Fur Rendezvous provides Alaskans relief from the winter doldrums with a carnival, fur auction, a ball, parade, snow sculpting contest -- the photos above and at right are of entries in recent contests -- the World Championship Sled Dog Race (not to be confused with the Iditarod, this race consists of three 25-mile heats over the course of three days), fireworks, a blanket toss, and more.
Below, a dog shows its strength by hauling a weight-filled sled a measured distance in the World Championship Dog Weight Pulling Contest.